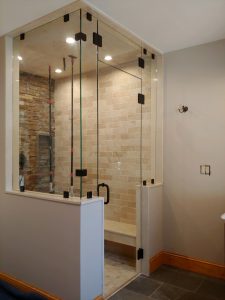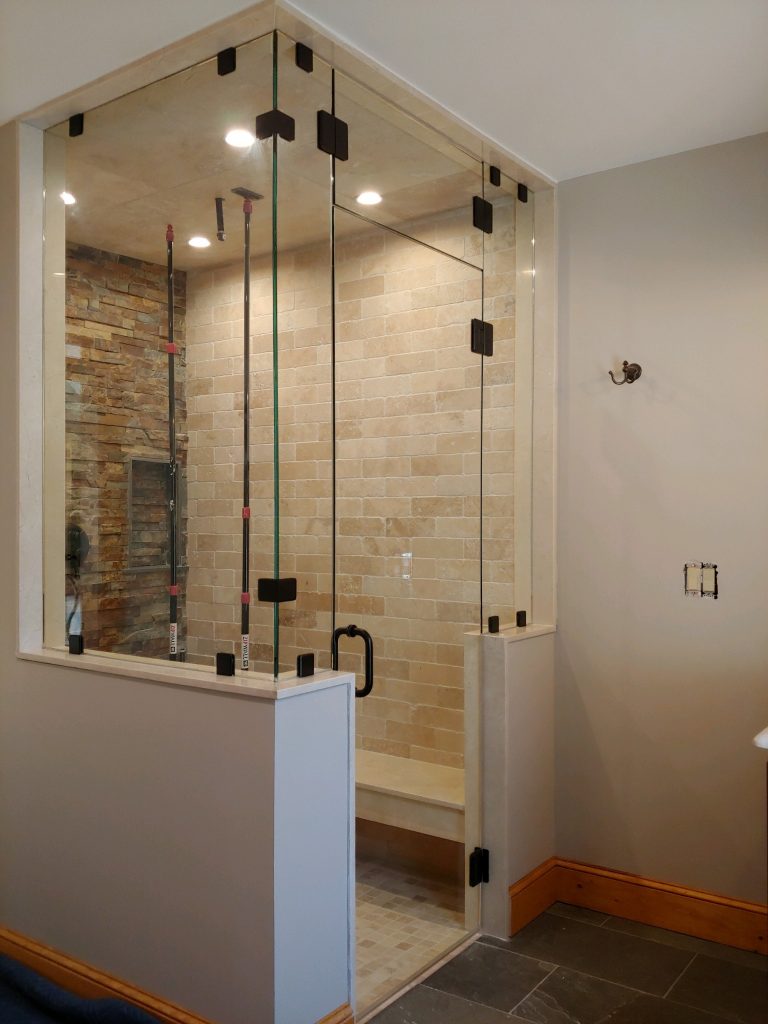 Glass Shower Enclosure Installed in Alton, MA
Our team designed and installed this beautiful glass shower enclosure for a client living in Alton, Massachusetts. The shower enclosure features frameless glass doors and simplistic handles and hinges that are designed to draw eyes to the intricate tile work that makes up the walls and floor of the shower.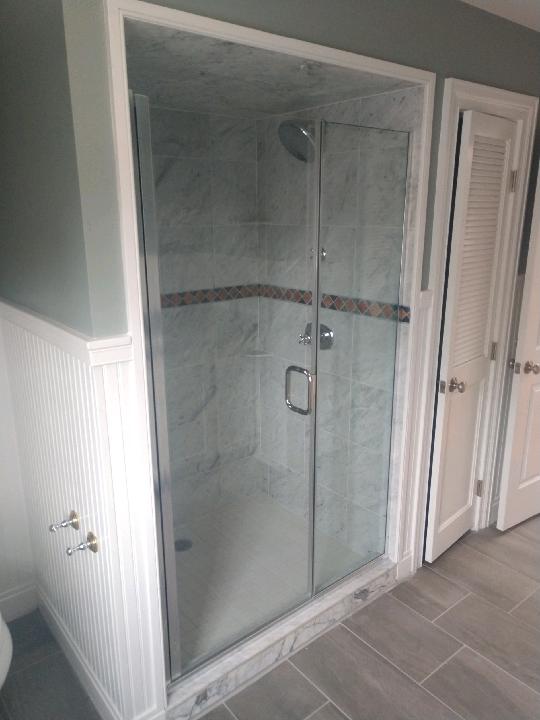 Shower Enclosure Installation in Andover
Over in Andover, our team of contractors installed this shower enclosure for a resident's bathroom. This bathroom uses a simplistic design with a single glass door made with two custom-made glass panels and features silver handles designed to match the other fixtures throughout the bathroom.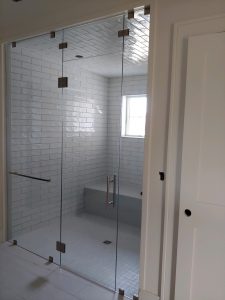 Custom Glass Shower Enclosure Design
The Merrimack Valley Glass & Mirror team travels throughout Massachusetts to provide glass shower enclosure design and installation services. We provide a variety of styles to choose from and can help you with your bathroom remodeling project by providing beautiful custom-made glass shower doors and wall panels.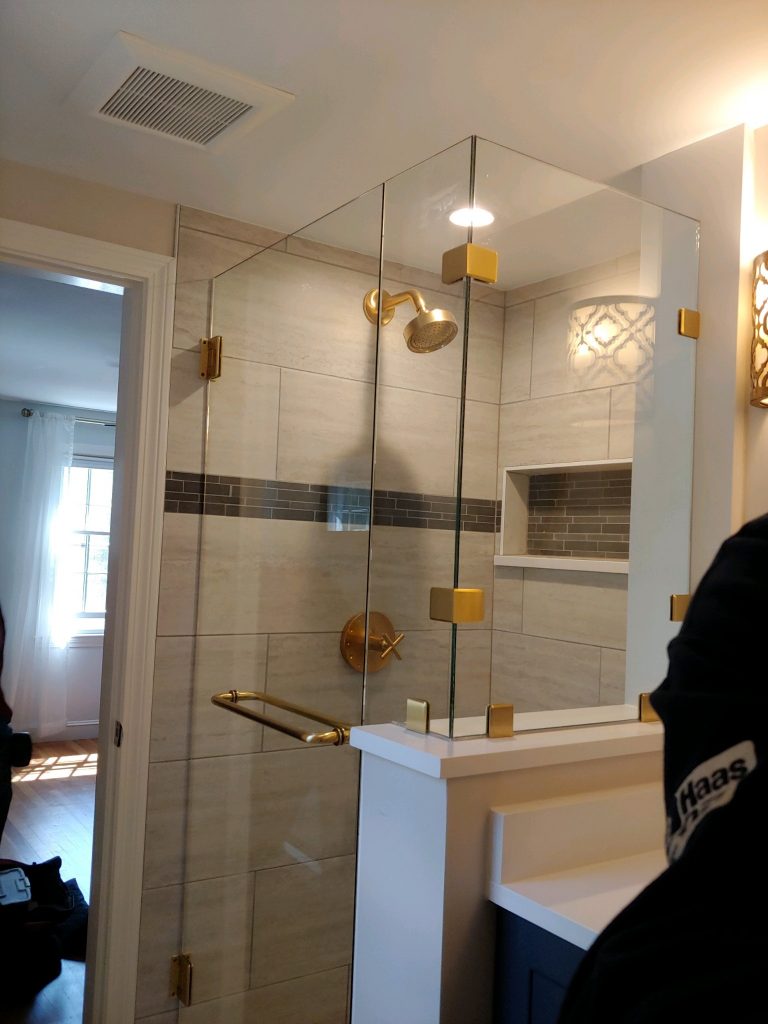 Shower Design in Boxford, MA
Our team worked on this shower enclosure in Boxford, Massachusetts. It features another frameless design that aims to highlight the unique gold finish of the showerhead and fixtures, additionally, gold hinges were used to connect the custom-made glass panels and act as accents for the golden showerhead.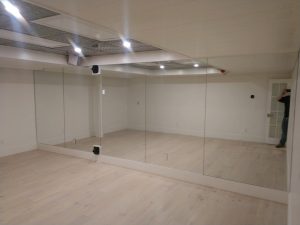 Custom Mirror Installation in Newbury
Floor to ceiling mirrors are very common for gyms, retail locations, and dance studios. Take a look at this installation we completed in Newbury. If you're interested in adding floor to ceiling mirrors at your property, or you need to replace a broken mirror, please send us a message for a free quote.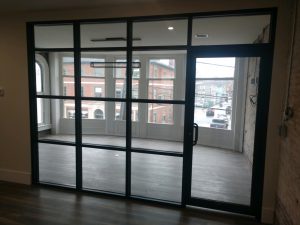 Glass Door Installation in Newburyport, MA
Aside from residential work, our team provides a variety of custom glass design and installation services for commercial clients. This includes storefront design as well as this vestibule glass door installation we did in Newburyport last year. Learn more about storefront design by clicking this link.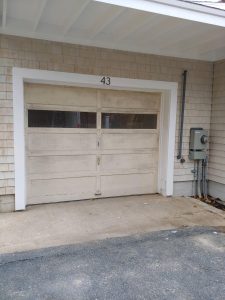 Garage Door Replacement
Aside from designing and installing beautiful glasswork, we also handle a variety of garage door services. From selling spare parts for DIY garage repairers, to providing repairs, to replacement door services. We would be happy to provide you with a quote on a new garage door and show you some of the options we have.
They are terrific! We have used them many times and have always walked away happy with the experience, including price, quality workmanship and products, and they are just great people to work with.

Angie's List Review
Came within hours. Sized up problem in 30 seconds, fixed in another 2 minutes. I will definitely use them to replace my garage door in the near future.

Angie's List Review
Great service. Excellent experience.

Harriet B. Google My Business
If I could give them 10 stars I would. They saved me from paying another "company" almost 4x (I'm not exaggerating) as much for a garage door repair. Great local company, great service, great prices.

Jenn W. Google My Business
Ordered windows with a phone call, picked up same day!

Shaun M. Google My Business
Genuine folks, great service. Saved the day by repairing my garage door in just a few minutes. Extremely fair and super efficient. I will recommend them to everyone!

Steven W. Google My Business
Very knowledgeable, I have purchased screens, storm door, a garage door with opener, glass table tops, bathroom mirrors, and had multiple windshields repaired over the years, always experienced friendly customer service, and a dedication to quality on-time installation, I recommend Merrimack Valley Glass-Mirror to my friends.
I highly recommend! Knowledgeable honest and reliable!