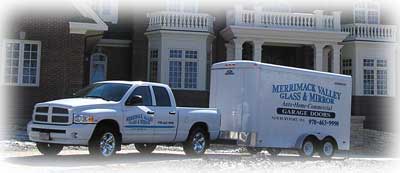 ---
Massachusetts's North Shore Premier Garage Door & Glass Installation and Repair Experts
Merrimack Valley Glass and Mirror is a local, family owned business that will stand behind what they sell and install for many years to come. For home and business owners, we are are a dedicated team of custom glass and garage door experts. From custom glass mirrors to a garage door fix, we install doors, fix broken windows and glass of all types, custom cut mirrors and table tops and provide solutions to your glass and energy efficiency needs!
Merrimack Valley Glass and Mirror is proud to be the North Shore area's leading provider of high-quality glass and mirror products. Our experienced staff offers fast, expert installations and evaluations for all of your needs. From a developing at home project to a complete home remodel, we got you covered! Not only do we work on homes, but we service businesses in a range of industries as well! We work with businesses on storefronts, windows, doors, garage doors and other commercial quality products to meet your needs and your budget. local, family owned business that is here to stand behind what we sell and install for many years to come.
32 Years Of Making Design Dreams Come True
Our Mission:
Customer satisfaction is our first priority. We strive to provide you with the best quality products, professional workmanship and prompt service the industry can offer. We are fully licensed and insured.
We Believe:
Here at Merrimack Valley Glass & Mirror we believe in providing our customers with the best quality, value, and craftsmanship of products available. Whether its a brand new garage door, updated glass counter top or a quick part replacement, we guarantee that we will provide you with the best imaginable. Being in business for over 32 years our selection of garage door and glass retailers can tackle any of your design desires, from residential to heavy duty we have an option for you! Contact us today to hear more about our service offerings and what product is the right pick for you!
Our Work:
Looking For Garage Door or Custom Glass Installation and Repairs? Contact Merrimack Valley Glass & Mirror Today!
Merrimack Valley Glass & Mirror is an expert team that provides top-of-the-line garage door and glass installation and repair services. If your garage door, glass, or mirror needs to be replaced or repaired, please feel free to reach out to us directly at 978- 463- 9990 or by filling out our online contact form. We provide quick delivery and installation services and ensure that all garage doors are installed perfectly. We look forward to hearing from you soon!