Located north of the Merrimack River from our Newburyport location sits Amesbury, Massachusetts. Over 17,000 residents call Amesbury home. Formerly a mill and farming town, today Amesbury is a quiet residential community. With over 7,000 homes in Amesbury, Merrimack Valley Glass & Mirror has been providing residential services to the community since our founding over 30 years ago. Whether our clients need garage door replacement services or are looking for a beautiful glass shower enclosure, we would be happy to help. If you live in the Amesbury area and would like a free quote on any of our services please use this link to contact us.
Garage Door Installation & Repair in Amesbury MA
Merrimack Valley Glass & Mirror has been providing garage door services to Amesbury residents for over 30 years. From garage door repair & replacement to spring cable repair & replacement we have the knowledge to get the job done quickly. We have access to common replacement parts for your garage as well, many times preventing the homeowner from having to purchase a brand new garage altogether.
For a complete list of garage door brands we install and service click here. In addition to the work we perform on garage doors and their cables and springs, the team at Merrimack Valley Glass & Mirror also works on garage door motors.
To inquire about our Garage Door Services in Amesbury, Massachusetts, use our online contact form.
Custom Mirrors & Glasswork in Amesbury MA
A large part of our service offerings revolves around custom glasswork. We provide window repair & replacement as well as window screen repair & replacement services in Amesbury. A great way to save money on your utility bills is to replace your old windows with modern energy-efficient models. We can work with you to determine the style you imagine, and turn your vision into a reality.
Other services we provide Amesbury residents are:
Glass Shower Enclosures in Amesbury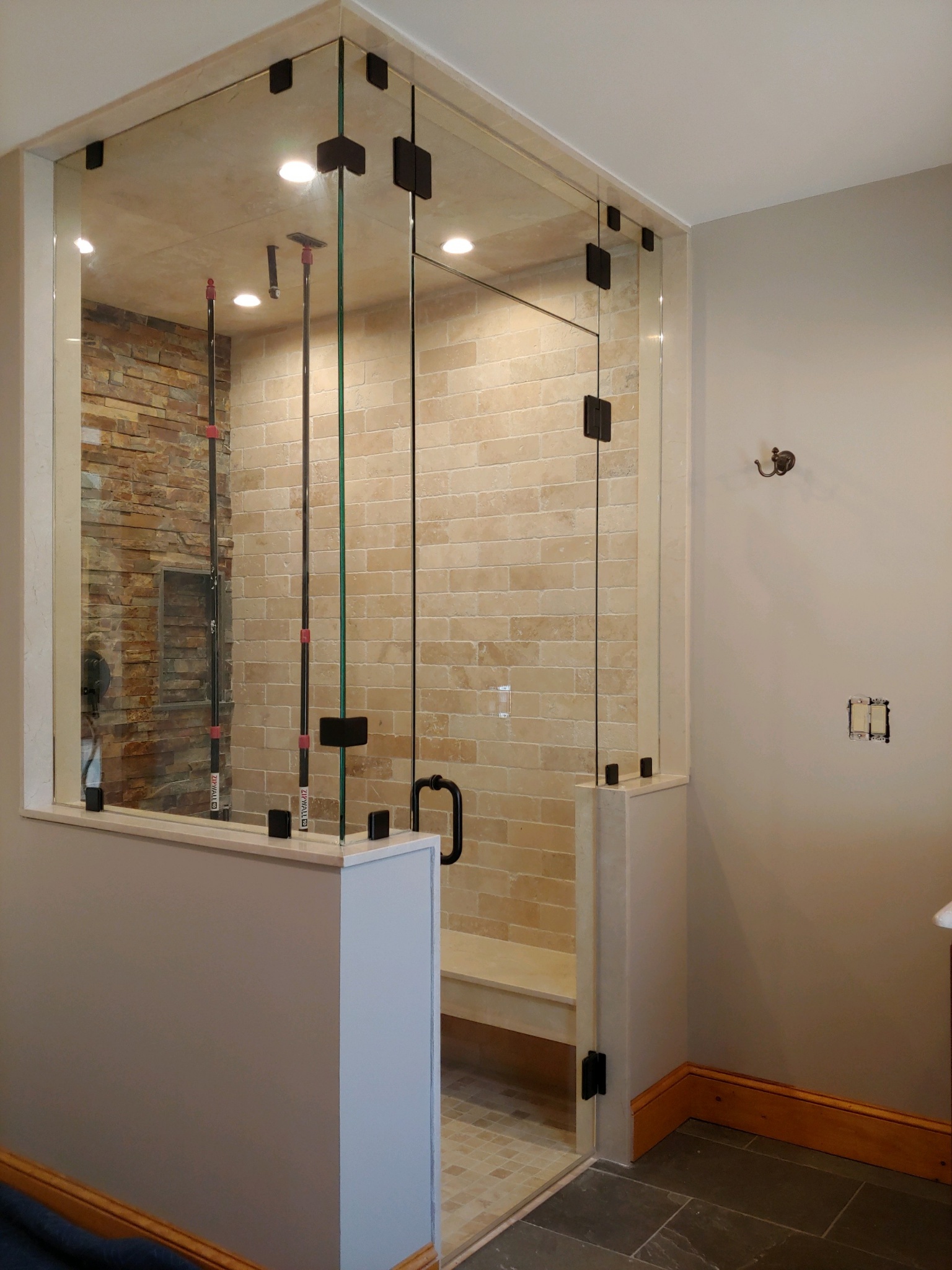 Interested in getting a beautiful glass shower enclosure for your home in Amesbury? We would be happy to help. There are many great design choices for glass shower enclosures including framed or frameless, textured glass, and the use of different metal finishes for handles and joints. Whatever you are looking for we would be happy to help!
Glass Railing Installation & Repair in Amesbury
Many businesses and homes use glass railings for their indoor and outdoor areas. If you are looking to install a glass railing for an overhang indoors or for an outdoor balcony, we would be happy to help. Additionally, if you are interested in getting a glass railing repaired or replaced, we can also help with this service. For more information please use our online contact form to get a quote.
Glass Tabletop Design In Amesbury
Glass tabletops make great centerpieces for family rooms and conference rooms. An elegant design really brings a more modern-looking room together. So whether you are looking for a glass tabletop for a coffee table in your home, or for the conference room table for your business, we would be happy to go over the designs with you and get everything all set up.
Custom Glass Storefront Design & Installation
Our team also installs beautiful glass storefronts for businesses in Amesbury and the surrounding towns. A glass vestibule or store front can help allow more natural light into your building while also making your building look friendlier to passersby. Many retail and food service locations invest in glass storefront design.
To contact Merrimack Valley Glass & Mirror call us at 978-463-9990 or contact us using our online contact form.