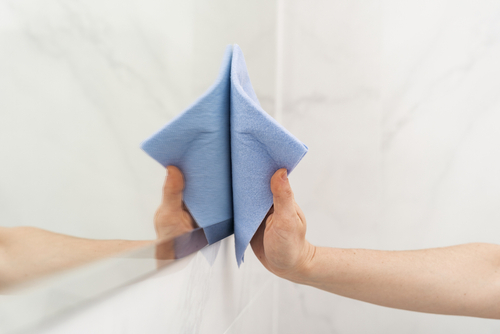 How To: Clean My Mirrors
How To: Clean My Mirrors
Looking to get that streak-free shine when cleaning the mirror throughout your home? Have no fear; pesky and streaky mirrors are a prevalent problem for even the most highly skilled housekeeper. Here at Merrimack Valley Glass & Mirror, we understand that sometimes, no matter how well you spray and wipe, you're still left with streaks, marks, dust, and fingerprints. That is why the mirror and glass industry experts at Merrimack Valley Glass & Mirror have compiled our top tips to ensure your mirror is streak free.
Our Top 4 Mirror Cleaning Tips
Firstly, Clean The Frame: 
If you are looking to clean a mirror with a frame or stand on it, it is best to clean that portion first. By cleaning the frame first, you ensure that you get all the dust and grime up before tackling the glass portion. If you choose not to clean the frame, you risk the mirror looking dirty all around. If you decide to do it after cleaning the mirror, you risk having to do it all again, especially if you get residue or streaks.
Use A Microfiber Towel:
Using a microfiber towel is the best way to clean your glass mirror, as they do not leave streaks, dust, marks, or residue on your mirror. While yes, you can use paper towels, they will not provide you with a clean and crisp-looking mirror. Paper towels will show streaks and smudges that you are trying to get rid of. You can find microfiber towels at your local grocery store or anywhere selling household cleaning products.
Apply Solution And Wipe:
Get a glass cleaner solution at your local store and apply it directly to the surface. To achieve a streak-free shine, use an S-shaped or Z-shaped hand motion all over the mirror's surface. Once the entire surface has been cleaned, use a dry microfiber towel to wipe the mirror dry in the same motion you used to clean.
Look In Your Crystal Clean Mirror
Once you have followed the above steps, take a step back and look at your stunning mirror, streak-free and clean!
How Can I Remove Tough Residue?
If you follow the above steps and notice a tough-to-get residue such as toothpaste, hairspray, or any other bathroom or household product is still on your mirror. You can spot-treat the area. To do so:
Take a cotton round (you can find these at any drugstore) and dab it with rubbing alcohol, soaking it.

Take the round and dab at the problem area. This will break up the gunk leaving you with a clean surface area.

After this is completed, take your microfiber towel and reclean the mirror.
Looking for a Custom Glass Mirror? Contact Merrimack Valley Glass & Mirror Today!
Merrimack Valley Glass & Mirror is an expert team of custom glass mirror professionals. So if you are looking for a custom-made glass mirror, whether it's a bathroom mirror that needs to be replaced or repaired or a stunning piece of decor, please feel free to reach out to us directly at 978- 463- 9990 or by filling out our online contact form. We provide quick delivery and installation services and ensure all mirrors are installed perfectly. We look forward to hearing from you soon!