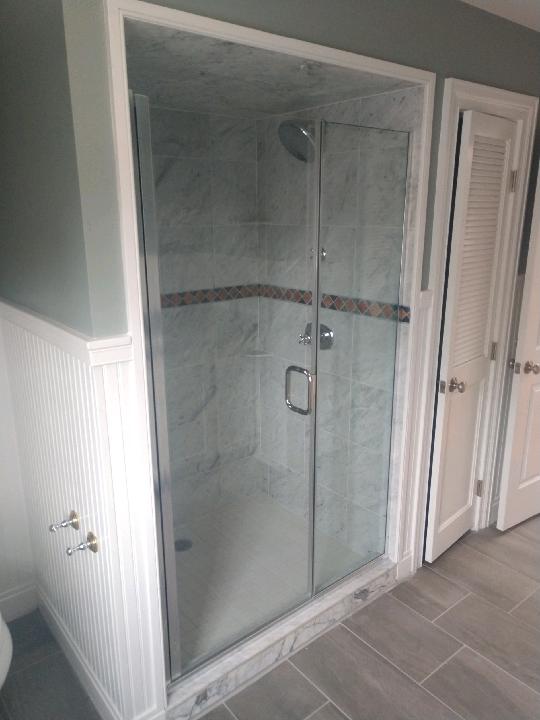 Should You Replace Your Shower Curtain With A Glass Door?
One of the most common home renovation projects is re-doing a bathroom. However, a full remodel of any bathroom can be extremely expensive. That is why many homeowners do one part at a time. For instance, you might replace your cabinets, or replace the floors, or update your shower at one point and handle another project years later. One of the most common projects to do in this piece-by-piece methodology is replacing a shower curtain with a glass shower door. Here are a few reasons why you should replace your curtain with a beautiful glass installation.
No Mold & No Mildew
Before we get into all of the aesthetic reasons to switch out a curtain for a glass shower door we wanted to open with some of the functional reasons to ditch that curtain. The chief reason you might want to get rid of a curtain is that it can grow moldy and get covered in mildew over time. Glass doors are much easier to clean and maintain compared to curtains. Plus, when a glass door that seals is an effective way to protect your floors from water damage.
Getting Rid of PVC
Many homeowners try to limit the number of PVC products in their homes. PVC or polyvinyl chloride is commonly found in plastics and can be harmful. Even if you plan to replace your curtain with a new curtain, it might be beneficial to find a curtain that does not contain PVC. Luckily, more and more manufacturers have been phasing PVC out of their products because of the health risks.
Improve The Design Of Your Bathroom
Of course, one of the greatest reasons to get a new shower door for your bathroom is for the design. Shower doors come in many varieties and can greatly highlight the design of your bathroom. Not only do they look more modern and elegant, but they also improve the lighting in your bathroom and can easily highlight the tile work between your shower walls and your flooring. Additionally, they can help accent the shower fixtures and how they match the other fixtures in the bathroom.
Dozens Of Options For Glass Shower Enclosures
Another reason to go with a glass shower door is because of all of the different design options at your disposal. You can choose how transparent the glass is, including using frosted glass. You can choose glass texture. You can also choose swinging vs sliding doors, as well as framed or frameless doors.
Get A Quote In Merrimack Valley
If you live in Merrimack Valley or the north shore and would like a quote on glass shower enclosures for your home, give us a call. We would be happy to discuss your shower design as well as our other glass and mirror services.