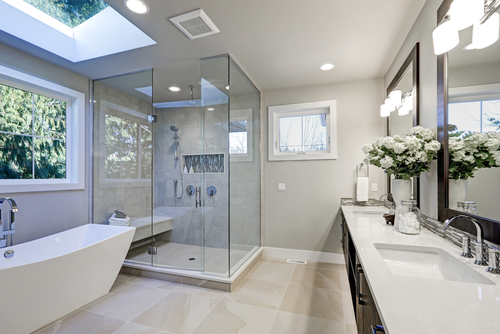 4 Bathroom Remodeling Ideas
Are you planning on remodeling your bathroom this year? Bathroom remodels can be a fun home renovation project. Whether you are looking to DIY your remodel or hire professionals for installation, everyone can use a little inspiration. That is why we have created this list of four bathroom remodeling ideas.
New Cabinets
One easy way to modernize your bathroom is by replacing old cabinets. New cabinets can transform the look of your bathroom. If you do not already own bathroom cabinets, buying and installing new shelving is not just an aesthetic improvement but also a functional one. There are thousands of cabinet colors, wood finishes, and cabinet designs for homeowners to choose from. Homeowners can go with whatever look best suits their vision.
Glass Shower/Bath Enclosures
A glass shower enclosure adds elegance to any bathroom. Instead of a curtain, a glass shower door makes a bathroom look full modern. There are hundreds of styles to choose from including framed or unframed, textured or not textured, and even the way the door opens can be customized. If you want to highlight tile work in your shower walls, a transparent untextured and unframed glass door will not only highlight your shower's interior but also make your bathroom appear bigger.
Replace Old Fixtures
You might not need to replace your sink, but you can always replace your faucets. Matching your faucet head, handles, shower head, and bathroom cabinet doorknobs can create a uniform design. Whether you are looking at adding brass, steel, or a metal finish, uniformity creates a modern effect. Many homeowners are now using black finish for cabinet doorknobs and darker gunmetal finishes for faucets. These contrast well with white sinks and bathtubs.
New Mirrors
Having multiple mirrors in a bathroom and make a bathroom appear larger. Custom mirrors also highlight other features of your bathroom including tile work and other fixtures. Every bathroom should have a mirror, but having multiple mirrors can transform how the interior of your bathrooms looks, and how much light is in your bathroom.
Get Custom Glass from Merrimack Valley Glass & Mirror
Merrimack Valley Glass & Mirror supplies and installs custom glass mirrors and shower enclosures. If you are working on a bathroom remodel, we can design the perfect glass products for your bathroom. Give us a call or contact us online to learn more about our glass shower doors and custom mirror design.