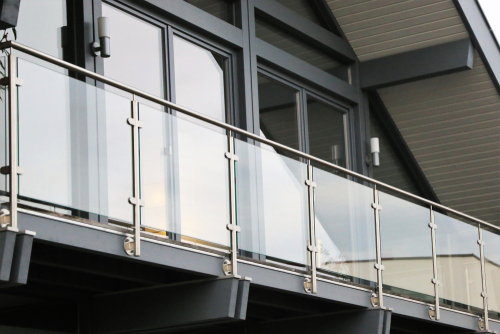 Frequently Asked Questions About Glass Railings
Glass railings are a beautiful addition to a home, office, or apartment building. Whether indoors overlooking a lobby from the second floor, or outside on balconies, a glass railing prevents your view from being obstructed. If you are planning to install new glass railings or replace existing railings with glass railings you may have a few questions. As glass and mirror installation contractors, we wanted to quickly go over some of the most common questions we get.
How Much Do Glass Railings Cost?
The first and most common question we get about glass railings is how much they cost. Unfortunately, it is impossible to give an exact quote without knowing specific details. Based on the materials you are using, the size of the railing, and a few other factors that affect installation costs (e.g. accessibility for installation staff), your glass railing costs could differ greatly. Average ranges are between $100 and $600 for a linear foot of glass, but this is of course very dependent on the height of the glass panels as well.
Are Glass Railings Difficult to Keep Clean?
You might worry that glass railings will cost extra in terms of regular maintenance costs. In fact, many glass railings are designed to be resistant to damage. Granted, regular cleaning will be necessary to remove splotches and other marks from the surface of the glass, but overall glass panels are pretty durable and resistant to general damage. However, you do need to consider where the railing will be placed. Indoor railings require less maintenance than outdoor railings as outdoor railings are more likely to be affected by the weather.
How Durable Are Glass Railings?
Glass panels used for glass railings are fairly durable. Much like windows, they are designed to be strong against weather conditions as well as impacts. That being said, they are not impenetrable. The type of glass you get and the thickness of the glass will affect how durable the glass is. Different glass types are designed for different conditions including outdoor and indoor railings.
Are Glass Railings Safe?
Tempered glass, which is commonly used in glass railings is four times stronger than regular glass. Some people may worry when they see glass railings or even glass floors in some buildings, however, there are actually glass materials that are more durable and safer than some floor materials. Once again it is important that you are getting the right materials for your project.
Contact Merrimack Valley Glass & Mirror For More Info
If you are interested in getting a glass railing for your building, we would be happy to provide a quote or answer any other questions you have about glass railings. For more information please send us a message via our online contact form.