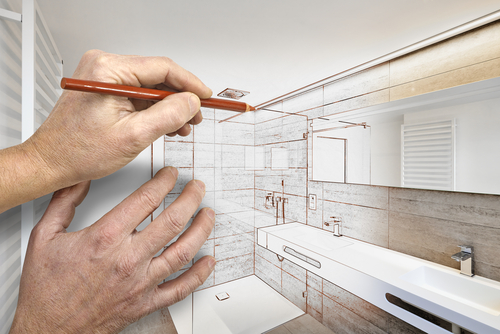 How Much Does Remodeling a Bathroom Cost?
Bathrooms and kitchens are some of the most important areas of your home when it comes to design. They're areas that you use regularly and most guests who visit will see. They're also areas that see a lot of wear and tear, as well as changes in style trends over the years. Whether you're looking to make your bathroom more functional, or just keep up with style trends, you might be considering a bathroom remodel. However, many homeowners are often concerned about the price. That's why we made this guide so you know what your wallet should be expecting for your bathroom remodel.
Affordable Bathroom Remodeling
Affordable bathroom remodeling typically costs up to $2,500. To achieve this lower cost, homeowners will generally focus on some cosmetic changes and things that can be easily DIY'd. Repainting existing cabinets, making small hardware changes, and adding a backsplash would all fall under a low-end remodel. Even replacing old mirrors with custom new ones can be easily accomplished with some light carpentry work. This is a great way to refresh your space while staying under a budget. One small project we recommend is updating your doorknobs and cabinet handles to match with your bathroom fixtures.
High-End Remodel
When bathroom remodeling includes new flooring, countertops, glass shower enclosures, and other contracting work, a professional is usually needed. This puts the average cost for high-end remodeling up to $23,000. That cost can even include changing the layout of the bathroom all together! That price can be very steep, which is why most homeowners focus on working on one part of the bathroom at a time. Focusing on just your shower and bath or sink area is an effective way to update your bathrooms over time.
Contact Merrimack Valley Glass & Mirror
Whether you are looking for new mirrors, new windows, or want to update your bathing area with beautiful custom made glass shower enclosures, our team can help. If you are on a budget we can help you with your small scale bathroom remodeling job by providing custom mirrors that you can add above your sink or attached to your cabinets. And if you are looking for a more drastic change we can help you get rid of your old curtain and replace it with a beautiful sliding or swinging glass door that is custom-designed to fit the dimensions of your bathroom. Give us a call to learn more or contact us through our online contact form.