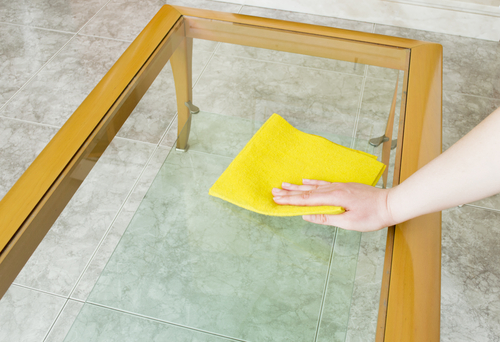 The Correct Way To Clean Glass Furniture and Tables
Glass-topped tables and other furniture items can create a modern and classy feel for a home or business. When properly maintained, their sparkling surfaces create reflections, adding depth and light to your home. However, glass furniture can be a bit of a challenge to keep clean, so if you're struggling to keep these items in good condition, read on for the proper way to clean them.
Clear it off. This should go without saying, but the first step to cleaning the glass furniture or table is to make sure it is clear of any items. It's inefficient to lift every item, wipe beneath it, and immediately replace it. Instead, remove all objects first so that you clean the glass all at once.
Wipe it off. Next, you'll need to wipe the table down with a dry cloth. This will remove all small and dry debris like crumbs and loose grains of sugar from your morning coffee. This will also remove dust, and you'll want to make sure you're using a lint-free cloth. If you do not use a dirty cloth you will cause smudging. Make sure your cloth is also not abrasive, otherwise you will cause scratches.
Wash it off. If your glass-topped table is your dining table, there are probably a few dried-on spills. Take the same lint-free cloth from step two and wet it down with hot water. If your table is particularly dirty, add a drop or two of dish soap. Do not do this with a sponge, since these can be abrasive and result in small scratches on the glass. You'll have to use more elbow grease, but you'll do less damage. If you use soap, rinse thoroughly with a clean, damp cloth. Finally, dry with a new cloth. Note: You'll want to do this step on both sides of the table to ensure pure transparency.
Use Glass Cleaner. After you've thoroughly scrubbed the surface of the glass tabletop or other furniture, you're ready to give it that sparkling, shiny finish. You can easily use a store-bought glass cleaner. However, you can also try a homemade version. Just mix a 1:1 solution of warm water and white vinegar into an empty spray bottle. Then use as you would a store-bought cleaner. For a shinier surface, use newspaper instead of cloth or paper-towels, since these materials can leave behind lint, threads, or fibers.
Want to add beautiful glass furniture to your home or office? Call Merrimack Valley Glass & Mirror, our team makes custom-designed glass mirrors, tables, and more.