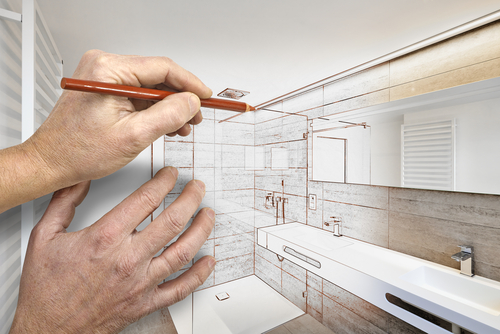 Why Should You Install a Custom Bathroom Vanity?
Sick of starting the day off on the wrong foot? Installing a custom vanity can truly make your mornings a luxurious and enjoyable experience, and allows you to get your day started on the best possible foot. The team at Merrimack Valley Glass & Mirror can help you create the bathroom remodel of your dreams, combining both practicality and beauty to deliver a unique look fit for you!
Three Reasons You Should Install a Custom Vanity:
Custom Fit For You: A custom vanity allows you to create a bathroom that is fit for all of your needs and desires within your space. The options are endless with what you can create. By custom-making a vanity you can pick how many drawers there are, how deep the drawers are, the size under the sink, how many mirrors or sinks you want, and so much more. By taking your needs into account you are allowing yourself to fully enjoy your bathroom space.
Style: Having a boring bathroom is a thing of the past. A bathroom is a space that is for you to begin and end your day, so why not make it a positive space? Let your bathroom serve as a creative outlet for you to design and make your own. Whether you are interested in a sleek modern look or a more natural aesthetic or a mix of both, we have all of the options you can imagine in creating the space of your dreams. The team at Merrimack Valley Glass & Mirror would love to discuss with you all of your bathrooms remodel options, give us a call directly at 978-463-9990.
Organization: Bathrooms can become a very hectic area within your residence. We understand that your skincare and body care products can end up becoming cluttered and sporadic. By installing a custom vanity you are ensuring that you have the proper space and storage that is needed for all your essential products and more.
Looking for a Bathroom Remodel? Contact Merrimack Valley Glass & Mirror Today!
Merrimack Valley Glass & Mirror is an expert team in the bathroom and vanity remodel services. If your bathroom mirror needs to be replaced or repaired, please feel free to reach out to us directly at 978- 463- 9990 or by filling out our online contact form. We provide quick delivery and installation services and ensure that all mirrors are installed perfectly. We look forward to hearing from you soon!