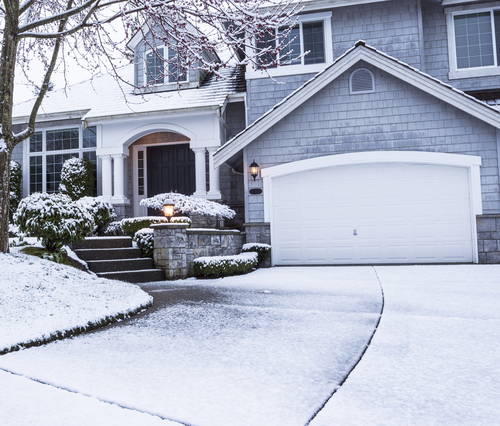 Winter Garage Door Maintenance Tips
It is winter in New England which comes with a lot of benefits and a few not so great things. On the one hand, winter is a great time for roaring fires, snow days, and warm hot cocoa indoors. On the other hand, winter can do a lot of damage to your home, car, and garage. There is a lot of preventative work you should do every winter to ensure you do not have to deal with extensive repairs in the spring. One area that gets overlooked by many homeowners is their garage. Garages need to be protected from cold winter elements more than other areas since garages are often not insulated. Even attached garages are generally much colder internally than the rest of the home which is why freezing garage doors are common throughout New England. 
How To Prevent Your Garage Door From Freezing
During the winter months extreme cold temperatures can cause some of the mechanisms in your garage door to freeze. Freezing doors can create a variety of issues including your door no longer opening or closing smoothly or the door hanging crooked. This winter, make sure to do the following to ensure that your door is ready for the cold weather. 
Check the weather stripping: Your weather stripping is vital to keeping your garage dry and relatively warm. Weatherstripping keeps your entire garage safe from winter elements. Check the stripping for cracks or tears, in some cases, you will need to replace the stripping. 

Check the tracks and rollers: Your garage door relies on some simple mechanical elements to open and close. Clear any excess grease from the tracks and rollers that may have built up over the year. We recommend hiring a garage door repair service to do any work on the torsion springs or cables. Improper adjustments made to these elements can cause bodily harm and cause malfunction. 

Clean the door: Check your garage door and its windows for cracks or holes. After checking these elements, clean the entire door on both sides to remove any debris on the doors. This will prevent further damage to your door in the winter. 
What To Do If Your Garage Door Is Damaged
If your door gets damaged this winter, there are a few courses of action you can take. Depending on the damage you may just need some replacement parts you can buy from a garage door vendor. If the damage is extensive you may need to hire a repair service to take a look at fixing and replacing broken elements of your door. In some cases, doors need to be replaced if entire sections of the door are damaged. Although this is very rare as winter conditions generally only cause issues with the moving elements of the door. 
Contact Merrimack Valley Glass & Mirror For More Info
If you need work done on your garage door this winter, give Merrimack Valley Glass & Mirror a call. Our team can provide spare parts as well as maintenance and advice on keeping your garage secure this winter.